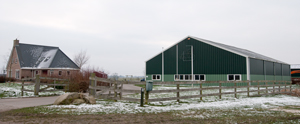 ---

Wie is Bron landschap onderhoud?
.
Bron landschap onderhoud is een bedrijf dat al 3 generatie actief is landschapsonderhoud.
Wij zijn door onze kennis en apparatuur in staat om projecten uit te voeren die variëren van zeer kleinschalig tot groot.
U kunt hierbij denken aan het beheren van zeer kwetsbare natuur percelen tot het uitgraven van een fundering voor een stal.





Feel free to tell them about what sets you apart from the competition, how long you've been working in your trade and so much more. This is an area you can be fun and energetic with your visitors.

You can also include some other ways to contact you in the sidebar. On this page we've enabled the sidebar on the right-hand side of the page and populated it with some content via the Page Inspector.

---
Bekijk ons werk
Vergeet niet onze
portfolio
te bekijken om ons werk te zien. Op
Facebook
vindt u, waar wij ons op dit moment mee bezig houden.
Wij horen graag van u!